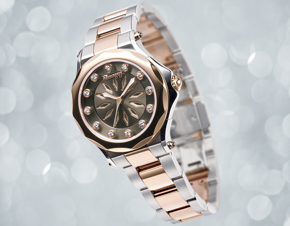 Waltz with me, here is a contemporary, energetic jewelry timepiece with twelve elegant curved facets around the bezel. Underneath the sapphire crystal is the twelve dazzling diamonds magically floating in their hour position telling you it's time to dance. Without saying, these buoyant diamonds are the design essence of this contemporary feminine jewelry timepiece.
To add majestic feel to this jewelry timepiece, four luxurious black cabochons are embedded on the sides of the case lug.
Underneath the twelve buoyant diamonds is the dial with grand and energetic character. In the center circular area, it features a deep, intricate pattern, with sculptured, textural layers. It's like watching dancers revolving in perpetual circles.
The back of this jewelry timepiece is the signature medallion to express the theme of contemporary femininity with its composition consists of symbolic red lip, lovely heart motif and the bold Buoyy logo.
The bracelet is equipped with an easy-to-adjust mechanism for length adjustment. This is to facilitate you to adjust the watch at home to suit your preference of either loosely or more closely fit on your wrist.