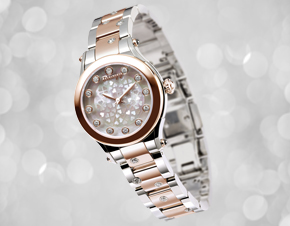 It's a contemporary feminine jewelry designed with timepiece performance. All twenty two dazzling diamonds shine like stars. Especially those twelve diamonds, which are magically positioned in buoyant and joyous formation underneath the sapphire crystal, seem almost alight with internal flare. Literally, they are hanging like stars in the sky. To mimic sign of the zodiac, another ten diamonds are set and artistically placed along the bracelet.
To further elevate the majestic feel of this jewelry timepiece, four luxurious black cabochons are embedded on the sides of the case lug.
Underneath the twelve floating diamonds is the white mother-of-pearl dial with lots of tiny heart shape cutouts in the center circular area. To fill these cutouts, lots of tiny hearts are carved also from mother-of-pearl and laid piece by piece on these cutout cavities. All these intricate processes made the dial face resembling an artistic hearts mosaic.
The back of this jewelry timepiece is the signature medallion to express the theme of contemporary femininity with its composition consists of symbolic red lip, lovely heart motif and the bold Buoyy logo.
The bracelet is equipped with an easy-to-adjust mechanism for length adjustment. This is to facilitate you to adjust the watch at home to suit your preference of either loosely or more closely fit on your wrist.